Tradewinds 2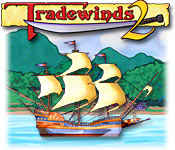 Tradewinds 2
System requirements:
* OS: Windows 2000/XP/Vista
* CPU: 600 Mhz
* Memory: 128 MB
Tradewinds 2
: Amass a fortune by buying and selling goods. Earn enough gold to upgrade your ship and engage in land and sea battles. Encounter a fascinating new world and discover uncharted ports. Two game modes and over sixty hours of gameplay await you. Play Tradewinds 2 and explore your new world.
Tradewinds 2 Walkthrough
.
Tradewinds 2 Features:
Buy low and sell high in 20 different ports with 1
Choose one of 5 characters or create and customize
Embark on over 100 swashbuckling adventures
Statement: Tradewinds 2 is distributed as a trial version. Tradewinds 2 may be downloaded free of charge, however, games may not be Resold.