The Alley Strikes Back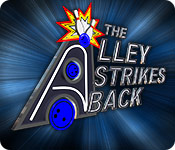 The Alley Strikes Back
System requirements:
* OS: Windows 7 / Vista / XP
* CPU: Pentium 3 1.0 GHz or Higher
* Memory: 256 MB


Renegade Bowling Pins are on the loose! Knock them down using matching colored balls and create dynamic results powered by real-time physics. Collect bonuses, power-ups and utilize an arsenal of super-powered balls to knock back, freeze, and obliterate the pins! Solve unique puzzles and defeat dangerous bosses. With this much action packed into one game, "The Alley Strikes Back" will provide many hours of entertainment for players of all ages!
The Alley Strikes Back Features:
Gorgeous Graphics
Switch Window/FullScreen Mode
For Any Aged Player
Statement: The Alley Strikes Back is distributed as a trial version. The Alley Strikes Back may be downloaded free of charge, however, games may not be Resold.