Teddy Floppy Ear: Kayaking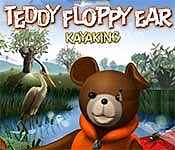 Teddy Floppy Ear: Kayaking
System requirements:
* OS: Windows 7 / Vista / XP
* CPU: Pentium 3 1.0 GHz or Higher
* Memory: 256 MB


Send your child on an unforgettable journey with the world's most charming bear! Teddy Floppy Ear is the main character of a series of adventure games for children,based on the famous Polish cartoon. Each game mixes entertaining adventure with a healthy dose of learning. In the "Kayaking" episode, Teddy Floppy Ear takes advantage of beautiful spring weather and goes on a kayaking trip with his friend Piglet. There he finds out that there is a problem with Mr. Catfish who acts a little too bossy, and needs to be taught a lesson in kindness. During his trip, our hero solves numerous puzzles testing a child's mathematical skills, eye-hand coordination, logical thinking and perceptiveness. Beautiful hand-painted graphics, soothing music, entertaining and violence free story keep your child occupied for hours.
Teddy Floppy Ear: Kayaking Features:
Gorgeous Graphics
Switch Window/FullScreen Mode
For Any Aged Player
Statement: Teddy Floppy Ear: Kayaking is distributed as a trial version. Teddy Floppy Ear: Kayaking may be downloaded free of charge, however, games may not be Resold.