Tales of the Shyre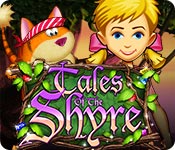 Tales of the Shyre
System requirements:
* OS: Windows 7 / Vista / XP
* CPU: Pentium 3 1.0 GHz or Higher
* Memory: 256 MB


Tales of the Shyre is a unique mash-up of time management and bubble shooting gameplay! Twins, Daisy and Danny learn of an evil force that has destroyed a magical fountain and scattered its pieces throughout the land. Help the twins as they take on the task of finding the pieces in order to restore the fountain.
Tales of the Shyre Features:
Gorgeous Graphics
Switch Window/FullScreen Mode
For Any Aged Player
Statement: Tales of the Shyre is distributed as a trial version. Tales of the Shyre may be downloaded free of charge, however, games may not be Resold.