Sparkle 2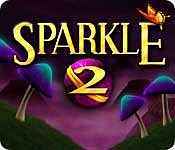 Sparkle 2
System requirements:
* OS: Windows 7 / Vista / XP
* CPU: Pentium 3 1.0 GHz or Higher
* Memory: 256 MB


A long time ago, five enchanted keys were created to open a lock guarding something of immeasurable valuable. The keys were scattered across these lands forever locked between night and day. Many have tried to search for the keys, but they still remain undiscovered. Will you be the one to unravel the mystery, or will you become yet another soul consumed by the search? Challenge the darkness with your swift orb-matching skills, mighty magical enchantments and earthshaking power-ups. Match the orbs before they fall into the abyss and find your way through mysterious lands of startling beauty!
Sparkle 2 Features:
Gorgeous Graphics
Switch Window/FullScreen Mode
For Any Aged Player
Statement: Sparkle 2 is distributed as a trial version. Sparkle 2 may be downloaded free of charge, however, games may not be Resold.