Sherlock Holmes VS Jack the Ripper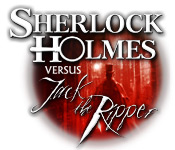 Sherlock Holmes VS Jack the Ripper
System requirements:
* OS: Windows XP/Windows Vista/Windows 7
* CPU: 1.4 GHz
* Memory: 512 MB


Unmask the mysterious identity of England's most violent and notorious killer in Sherlock Holmes vs Jack the Ripper! The year is 1888 in the Whitechapel district of London's East End and a sinister series of crimes have taken place. The bodies of several women have been found and the police have been unable to find any leads. Sherlock Holmes, England's greatest detective sets out to find clues in the dark and gloomy streets of Whitechapel, following a macabre trail to shed light on the true identity hiding behind the terrifying nickname!
Sherlock Holmes VS Jack the Ripper Features:
Solve one of England's greatest mysteries
Discover the darker side of London
Play as either Holmes or Dr. Watson
Statement: Sherlock Holmes VS Jack the Ripper is distributed as a trial version. Sherlock Holmes VS Jack the Ripper may be downloaded free of charge, however, games may not be Resold.