Luxor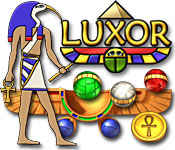 Luxor
System requirements:
* OS: Windows 2000/XP/Vista
* CPU: 600 Mhz
* Memory: 128 MB
Luxor
: The mysterious goddess, Isis, has enlisted you to battle Set and his evil minions. The challenge will not be an easy one. Use your mystical winged scarab to shoot magical spheres and destroy the approaching colored spheres by making matches of three or more. Stop them all before they can reach the pyramids at the ends of the paths... or all of Egypt is doomed!
Luxor Walkthrough
.
Luxor Features:
88 levels.
Innovative gameplay.
Exciting powerups.
Statement: Luxor is distributed as a trial version. Luxor may be downloaded free of charge, however, games may not be Resold.