Luxor 2 HD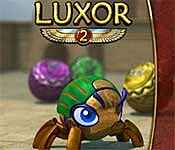 Luxor 2 HD
System requirements:
* OS: Windows 7 / Vista / XP
* CPU: Pentium 3 1.0 GHz or Higher
* Memory: 256 MB


Embark on a beautiful voyage across the dazzling landscapes of ancient Egypt as you play your way through 88 gorgeously rendered levels in brilliant, widescreen HD. Sail across famous pyramids and temples on your mystical winged scarab and shoot down enemy spheres, using explosive power-ups to obliterate your opponents before they reach the pyramids!
Luxor 2 HD Features:
Gorgeous Graphics
Switch Window/FullScreen Mode
For Any Aged Player
Statement: Luxor 2 HD is distributed as a trial version. Luxor 2 HD may be downloaded free of charge, however, games may not be Resold.