Hotel Solitaire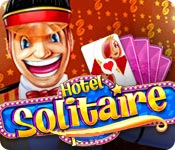 Hotel Solitaire
System requirements:
* OS: Windows 7 / Vista / XP
* CPU: Pentium 3 1.0 GHz or Higher
* Memory: 256 MB


Welcome to Hotel Solitaire. Take the elevator to reach one of its 20 floors. On each floor you will find 5 rooms, each with its own game of solitaire. Play all the way through to reach the terrace of this happy hotel and enjoy the view. So take a few days off and book yourself into Hotel Solitaire. Play either against the clock or with no time limit.
Hotel Solitaire Features:
Gorgeous Graphics
Switch Window/FullScreen Mode
For Any Aged Player
Statement: Hotel Solitaire is distributed as a trial version. Hotel Solitaire may be downloaded free of charge, however, games may not be Resold.