Fantasy Mosaics 7: Our Home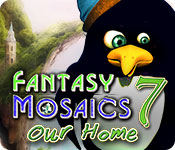 Fantasy Mosaics 7: Our Home
System requirements:
* OS: Windows 7 / Vista / XP
* CPU: Pentium 3 1.0 GHz or Higher
* Memory: 256 MB


New colorful mosaic puzzles are waiting for you in this fun installment of Fantasy Mosaics! This time you join our penguin family on a new adventure to decorate their house on an alien planet and prepare for the upcoming baby penguin! Challenge yourself with this exciting collection of custom built multi-color puzzles and have fun discovering stunning images hidden in the logic of numbers.
Fantasy Mosaics 7: Our Home Features:
Gorgeous Graphics
Switch Window/FullScreen Mode
For Any Aged Player
Statement: Fantasy Mosaics 7: Our Home is distributed as a trial version. Fantasy Mosaics 7: Our Home may be downloaded free of charge, however, games may not be Resold.