Chef Solitaire: USA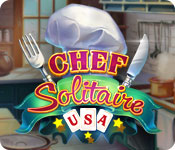 Chef Solitaire: USA
System requirements:
* OS: Windows 7 / Vista / XP
* CPU: Pentium 3 1.0 GHz or Higher
* Memory: 256 MB


Make your way across America building your franchise of restaurants! Play solitaire to collect stars and unlock new restaurants and locations all around the USA. Purchase items and upgrades from the store to help you along the way. Collect exclusive chef hats and earn solitaire dollars in Chef Solitaire: USA!
Chef Solitaire: USA Features:
Gorgeous Graphics
Switch Window/FullScreen Mode
For Any Aged Player
Statement: Chef Solitaire: USA is distributed as a trial version. Chef Solitaire: USA may be downloaded free of charge, however, games may not be Resold.